I've worked in print for a couple of years now alongside my photography career. In that time I have printed lots of wedding photos and canvases, and had lots of chats with couples about their wedding photo experience. It seems a lot of people feel like fish out of water when it comes to choosing the photographer for the big day, and many regret not spending time to choose the right photographer. In response, I've put together this article to explain some of the main ways to find a photographer and how to get the best out of the experience.
Choosing a wedding photographer can be a hugely daunting process, with so many great photographers out there and so many styles to choose from, where do you even start? How can you begin to sift through the websites and portfolios and flashy packages to find someone who can really capture the essence of the big day?
When you're already dealing with planning a wedding and all the stress that comes with it, finding a photographer you can trust to deliver impressive results can be enough to make you want to curl up into the foetal position and just get your snap happy Uncle Jerry to do it.
The purpose of this article is to explain why getting Uncle Jerry to do it is the worst idea ever, to help you break down all the things you should be considering before choosing a wedding photographer, why it helps to be picky, plus some tips to make the hunt for the perfect tog that little bit easier. So, let's dive straight in!
Wedding photography is already a hugely oversaturated market which at first can seem like a bad thing. However, once you begin to scratch the surface and look more in depth you'll find there are many different routes to finding a wedding photographer, there is something for everyone and every budget, just because you haven't got thousands of pounds to fork out doesn't mean you won't find somebody who is going to do an amazing job.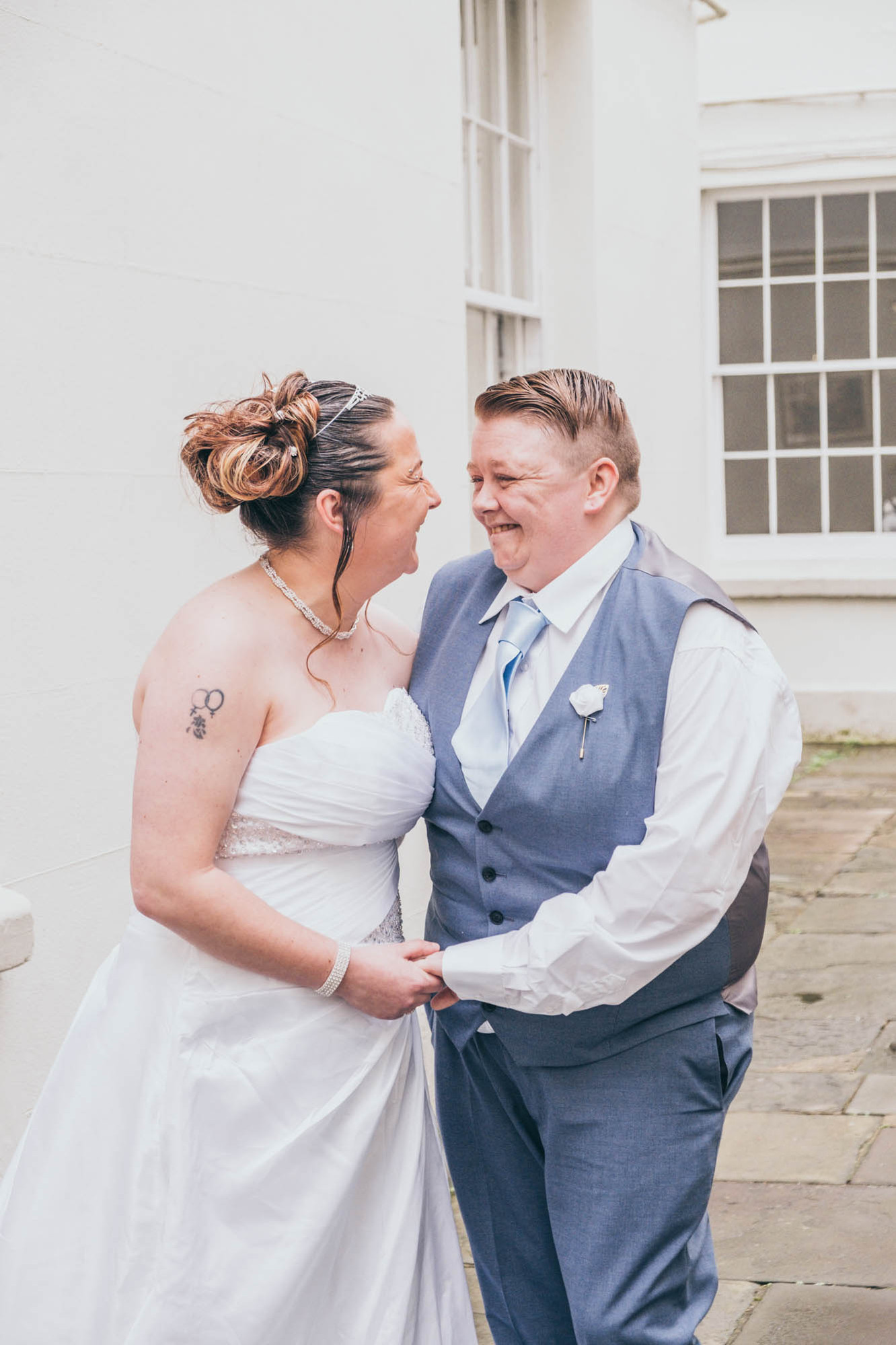 Pro Wedding Photographers
At the top end of the spectrum you'll find high end wedding photography. Often these packages can reach well over £2,000. Yes, this is an eye watering amount of money, and yes, in the real world most people don't have that sort of money. BUT…if you've already spent over £50,000 on the venue, the dress, cake, catering and are expecting 500 guests, doesn't it make so much more sense to invest the money and make sure all of these elements are properly documented by someone who really knows their stuff? For this price you should be getting at least two photographers on the day, coverage from getting ready in the morning until the reception (and everything in between!), full resolution digital images, a wedding album or prints, possibly a wedding video, maybe a pre-wedding engagement shoot if you're lucky! For that price your photographer should keep a backup of your wedding too in case anything happens to your originals. With top end photographers like this, they should be asking you loads of questions about what you want to get from your wedding photos. Any shots they absolutely have to get? Want to showcase those amazing shoes? Or maybe you just want to make sure you get some amazing post ceremony shots of the whole family together. Whatever it is, there is no request too big as these guys are the big guns and they will go the extra mile and then some for you.
Take a look at some of these package breakdowns from some great UK photographers to give you an idea of what you should be expecting, you'll notice there is still a huge variety in price and whats included which is why its so important to pick out a selection and really think about who you want there on the day.
https://www.weddingfooteography.com/price-packages
simple pricing structure, options to add extras
https://fionawalsh.co.uk/pricing/
Fiona has a great Q&A to help answer all of your questions
https://www.jimmygough.co.uk/packages
Jimmy has a tiered price structure and lots of extra options!
So as you can see from this tiny selection of the myriad of wedding photographers, everyone does things their own way and its really important to spend the time to pick out somebody whose work you really love and who you get along with!
Agency Photographers
Another option is hiring a photographer through a wedding photography agency. An agency is a collective of photographers all working for the same company, all on the same rate. There is usually the option to browse photos by photographer, but it can be a pain if you get your heart set on someone's style to find that they are unavailable for your wedding. Agency photographers tend to be cheaper so it can be worth looking into as sometimes this can be a much better option if you are looking to save money but still want some beautiful photos to show for it. Heres a couple of agencies I found through a quick google search.
https://southwestselective.co.uk/
https://www.pinkdaisyweddings.com
Word of Mouth
No doubt if you're planning a wedding you may have already have a photographer recommended to you by friends who recently tied the knot. While word of mouth is great for the photographer, and if your friend liked them then surely you will too, I have to shout out DON'T GO ON RECOMMENDATION ALONE!! It's not like a blind date where you can just call a taxi from the bathroom, if you haven't met your photographer and you don't like them or what they are doing on the day then there's literally nothing you can do about it. Its SO important to get to know your potential photographer before you go ahead and book. I've heard horror stories of people who have forked out well over a grand for a photographer, only to find once they received the photos that there's more pictures of the sister in law getting ready than the bride, and no photos of the new in-laws! On top of that they weren't happy with the style of photography. Things like this could have totally been avoided if either the couple or the photographer had reached out to discuss the day, they had no pre wedding consultation which totally blows my mind! You wouldn't go out for a meal and order blind off the menu so why leave it to chance on the biggest day of your life!
Non-Wedding Photographers
Now this next option I like a lot, because it was a godsend for me when I was first starting out in weddings. I feel like it only really applies to small weddings, unless the photographer is feeling especially brave. So this is where you hire a photographer who has plenty of experience in other branches of photography but not so much with weddings, the good old 'I'm building my portfolio so I can do a discount!' Thankfully I'm past that stage now but at the time, it was a huge win win, I got to experience shooting weddings and the couple still had a great set of images from the day. I say that I wouldn't recommend this for big weddings as there is too much margin for error, wedding photography is a huge undertaking and you'll be devastated if too many of the key moments are missed. The price for this kind of photography will depend on the individual photographer, the kind of work they usually do and the amount of time they will be with you for. Best to have a chat over the phone and discuss everything prior to making a decision.
Keeping Costs Low
Now that we've been through all the different types of photographer, how do you find the right fit for you? It's important to decide what style of photography you want, how many bells and whistles you want added onto your package – work out what is essential and what isn't necessary to try and cut back costs. Here are some things to consider:
- How big is your wedding party? Will you really need a second shooter to capture everything?
- Full day vs half day, unless you want photos all the way from getting ready until the reception there is no need to book a full day. Half day will easily cover ceremony pics and at least some of the reception. What is the most important part of your wedding?
- Style! What sort of wedding photos are you looking at online or in magazines? What has inspired you? If your venue is in gorgeous natural scenery you better be looking for someone who specialises in landscape! If you want emotional in between moments, get a photographer with documentary experience.
This guy is a perfect example of a specialised wedding photographer. His work consistently features beautiful landscapes combined with wedding photography. Yes his work is beautiful, but unless you're having a similar style wedding, It's not going to be worth the extra money. Find someone who matches your personal style.
- Do you want a wedding video? You could hire a separate videographer OR spend the extra time to find a photographer who can do both for you, make sure you are having these conversations with your potential photographer so you are all on the same page before the big day comes.
- If you're pretty good on the computer then you probably don't need to pay extras for a wedding album. Its nice to pay for the convenience yeah, but sometimes it isn't worth the extra money as you can find deals online for wedding albums and canvases, and you can choose the photos yourself! Websites like blurb are great for self publishing your own wedding album. Sites like photobox and snapfish do high quality, value for money glossy prints too!
Where do I Start?!
Start by pinpointing the sort of photographer you want, then go from there! Bullet point your priorities and keep a record of who you're looking at, will make the final decision much easier if you have all the info in front of you! There are many ways to find a photographer, wedding fairs, magazines, word of mouth, Google search by area and type, e.g. "Bristol documentary wedding photographer" or you can look online as there are a few databases too, but you will only see the photographers who have consented to being on these pages.
https://www.findaweddingphotographer.co.uk/
https://www.hitched.co.uk/wedding-photographers/
I hope I haven't bored you too much with my ramblings and that you've managed to get some good information from me. Wedding photography is daunting and hopefully this breakdown has made it a little easier for you to understand the industry, and now you can go on your search, knowing exactly what you want!
Easy!